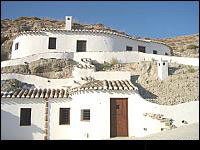 Life protected from the elements by caves has been around for thousands of years, and goes on to this day in countries all over the world. In southern Spain, cave homes are man-made, and not natural formations that humans simply moved into. Granada Province has the largest cave dwelling population in Europe but there are pockets of caves as far north as Murcia and the sale of refurbished cave houses is the new boom industry in many tiny villages that previously depended only on agriculture for their meagre income.
British estate agents have been quick to cash in on the boom, scooping up whole mountains of caves, refurbishing them and then selling them at a tidy profit.
In southern Spain, cave houses naturally maintain a steady temperature of around 19-20 degrees centigrade year round. This is a big selling point in an area where summertime temperatures easily pass the 40-degree mark and where it occasionally snows in winter.
Cave houses can have all the amenities of a regular house (and more), electricity, plumbing, and heating are easy to install, and cave houses remain dry and habitable with normal ventilation. Even those with claustrophobia find modern cave houses quite comfortable and many who have holidayed in cave houses report having the best night's sleep of their lives. The womb-like silence wraps itself around you and the absolute dark means you sleep much longer than you would normally.
Granada is probably the Spanish area most famous for its caves. Some of the very earliest names for the city of Granada refer to its cave dwellings and in this province are cave theatres, cave hotels, cave restaurants, cave spas and of course, cave houses. Here three separate concentrations of cave houses exist: the historic Albaycin and Sacromonte neighborhoods of Granada City where there are large gyspy populations living in caves, Guadix, on the other side of the Sierra Nevada mountain range, and also in Baza. The Albaycin and Sacromonte are adjacent hillside neighborhoods, both of which form part of a UNESCO World Heritage Site along with the Alhambra Palace. The total cave-dwelling population of the three areas runs into the tens of thousands. Some cave houses are extremely large, having up to ten or more rooms and the soft stone means that another room can be carved out at will (provided you aren't encroaching on your neighbour's space).
One likely historical explanation for cave building in Spain is that the Arabs brought the tradition with them in the eighth century basing the idea on the troglodyte dwellings of North Africa. Right up until the 1950s tens of thousands of native farming communities lived in these caves but with the advent of tourism in the early 1960s a mass exodus of the workforce to the lucrative coasts meant that many caves were simply abandoned.
Nowadays many British and other northern Europeans, are attracted to the idea of escaping to the small cave communities inland from the busy resorts on the coast with their affordability and practicality making them very attractive to people who would otherwise not be able to get a foot on the Spanish property market.
As well as the necessary water and electricity supplies, many have phone (and in some cases broadband connection), while others even come complete with Jacuzzi and a swimming pool.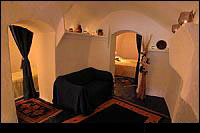 And it is not just existing caves that are being bought up for modernisation; new cave homes can be sculpted out of the special mountainside rock face that lends itself to this type of structure extremely well. Architects in the cave areas are being specially trained in the skill necessary to design and 'build' state-of-the-art cave dwellings for the increasing market.
Within certain limitations and depending upon your cave neighbours, one can have high or low ceilings, large or small rooms, curvilinear walls, domed or arched ceilings, alcoves, built-in furniture... In fact, building this kind of cave house is like sculpting your house from inside out - a unique experience. No two cave houses are the same. Given enough land, you can also expand instantly and easily.
If you want to know more about buying or building a cave house, there are many specialist estate agents dealing in this type of property, both in the Huescar and Baza area of the Altiplano region of Granada, as well as in the town of Guadix. Although prices of cave properties have risen in the last few years, you should still be able to buy a pretty two bedroom cave cottage for in the region of 79,000 euros. A fully refurbished five-bedroom, four-bathroom cave house could also cost as much as 200,000 euros.
to return to main page